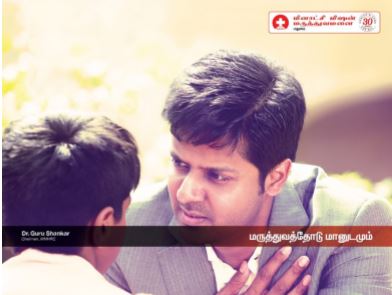 ARAMSEIYDHUPAZHAGHU
We look at 'treatment' in two different angles. One, how do we treat the disease? Two, how we treat the individual patient? Medical sciences have grown at an astonishing rate in the last 100 years. Diseases considered deadly once have simply been eradicated and many others can be prevented with just a vaccination. In fact, medicine is the foremost example of how far the field of science has advanced. But the farther we progress the more we seem to lose touch with the one thing that matters most, the human touch.
We believe medical practitioners, more than anyone, and especially because they deal on a daily basis with the reality of human lives have a responsibility to restore that human touch. If we don't, who will?
This brings us back to the question of treatment. How does a doctor treat his patient? By just doing the job of a physician, with absolute detachment? Or by catering to the prevailing economic and marketing trends in healthcare. The answer is neither, though we apply both approaches to varying degrees depending on the circumstance. And we stumbled upon a wonderful answer to this tricky question in a timeless text written some 2000 years ago.
The answer was "aram seiya virumbu" (have intent to do right deeds) from the classic Tamil work 'Aathichudi'. The work doesn't predate the concept of 'doing the right thing' but it surely was the first time someone verbalized the most noble of human instincts. And so was born the philosophy 'aram seiydhu pazhagu', the line tweaked to show that 'doing the right thing' was more than a sentiment to doctors, it was a duty.
Disease is democratic, it doesn't differentiate, between the poor and the rich, between the urbanites and rural folk. Illness and the suffering it brings have the same effect on all people. There is however a great gap in access and quality of treatment. The well-off have high quality medical care while the poverty stricken have substandard medical care, the city dwellers have hi-tech medical facilities while villagers make do with antiquated facilities. The need of the moment is to erase these differences and create a reality of equality in medical access and treatment. This is the wish, objective and ultimate aim of our new philosophy: 'AramSeiydhuPazhagu'.
Meenakshi Mission Hospital has been journeying towards the above aim 'world-class care within everybody's reach' for the last 30 years. We have served people faithfully irrespective of their economic status or caste or creed. Though we have journeyed for three decades, we trust this new found philosophy will nourish and push us to serve with renewed belief.